Course Plan Template
in MS Word format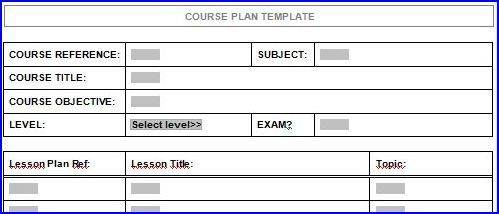 The
Course Plan template in MS Word format
will download as a ZIP file.
Alternatively
view a Printable Course Plan in PDF format.
---
About this Template
| | |
| --- | --- |
| File Name: | CPT_WORD_01-Course_Plan_Template |
| File Type: | Microsoft Word Document Template (.dot) |
| File Size: | 11 KB zipped / 86 KB when unzipped |
| Application: | Created using Microsoft Word 2003 |
| Page Setup: | A4 - Portrait |
My curriculum planning template will help those who are responsible for planning a course or curriculum to manage and administrate the course content and lessons.
There is space to enter the details of up to 24 lesson plans.


Using the Word template
When you open the Microsoft Word template file it will open as a new document ready to be used. This will happen each time that you open it.
The document has been protected to only allow the user to complete the grey boxes. These grey boxes are known as Form Fields. You can tab from one form field to the next or use your mouse to navigate between them.
You will not be able to amend any other part of the document unless you unprotect the document first.
Simply enter the relevant course information into each form field.
I recommend that you give your completed template a unique reference. This will help you locate and identify it again in the future.


For comments or enquiries not restricted to one particular template please get in touch using this Contact Form.


---
MORE CURRICULUM PLANNING TEMPLATES..
RELATED TEMPLATES..
<< RETURN TO CLASS TEMPLATES HOME PAGE