Certificate of Achievement 
015
A4 Landscape - Reading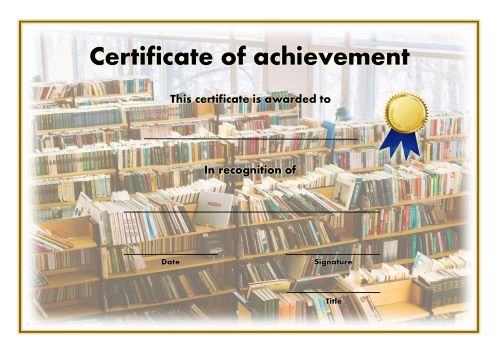 Certificate of Achievement 015
Certificate uses
Sometimes we need inspiration to pick up a book.
I know that my son requires encouragement to broaden the variety of fiction books that he reads (and to keep him off the xBox!).

This certificate of achievement is perfect for recognising the progress made when reading. 
Ideas for use include:
school reading challenges
World book day
completion of reading homework
out loud reading
reading comprehension exercises
helping out in the library

Download options for Certificate of Achievement 015
CAC_PUB_015-Certificate_of_Achievement-English1_orig.jpg

CAC_PUB_015-Certificate_of_Achievement-English1

CAC_PUB_015-Certificate_of_Achievement-English1

Image attribution
We would like to say thanks and acknowledge the creator of the image used in this free certificate template.
---
Related templates
Looking for an award certificate to recognise progress made with writing? 

Click here to view this A4 printable certificate of achievement.
---
MORE CERTIFICATES OF ACHIEVEMENT >> 

Certificates of Appreciation >> 

Certificates of Completion >> 

<< RETURN TO CLASS TEMPLATES HOME PAGE