Lesson Attendance Template
in MS Word format
To download the lesson attendance template click on the image below.
The template will download as a ZIP file.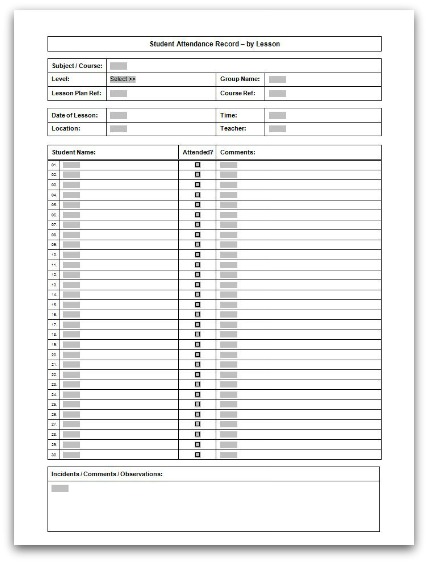 Not got MS Office Word? Click here to view a Printable Lesson Attendance Sheet in PDF format.
About this template
ATT_WORD_01-Student_Attendance_Record_by_Lesson
12 KB zipped / 104 KB unzipped
Microsoft Word 2003 or later
This Microsoft Word lesson attendance template for teachers allows accurate record keeping of students attending individual lessons.

Up to 30 student names can be entered on one sheet of A4.

There is space to write some brief comments regarding each students attendance (if required).

There is also space at the foot of the sheet to record any incidents that occur that may be worth noting.

Instructions on how to use the lesson attendance template
The following instructions are my recommendation on how best to use the template to help track attendance as efficiently as possible.
Firstly, download the Word template and save it. Ideally you want to access the attendance template when you are in class.

Next, if you are delivering a course or a series of lessons to the same group of students enter the following information;
Group Name
Level
Subject/Course
Course Ref (if relevant)
Student Names

After you have entered the above information, save the attendance sheet as a new Word document template with the (.dot) file extension.

The next time you open it, the information you entered previously will be displayed.

Each time you deliver a lesson to the same group, open your saved lesson attendance template and complete the following details;


What you do next will depend on whether you have access to a PC and your lesson attendance template during the lesson.

If you do have access, record if a student is present by clicking on the Attended? box next to the Student Name. A cross will be displayed. This signifies that the student is present. Leave the Attended? box blank if the student is absent.

If you do not have a PC or cannot access your attendance template during the class, print a hard copy of the attendance sheet and record attendance by hand. Use whatever notation you prefer - ticks, crosses, slashes etc, to define if a student is present or absent.

There is a small space next to the Attended? column to make notes about the students attendance. For example, if a student is absent you may want to note the reason for the absence or note that no reason or notice was provided. You may also wish to note that a student arrived late or that they needed to leave the lesson early.

At the foot of the lesson attendance template is additional space to note any incidents that occur that you consider are worth noting. Use this space to make any comments or note observations that you think may be of value to refer back to in the future.

If you have completed and recorded attendance directly into the attendance sheet on your PC during the lesson, make sure that you save it.

If you have recorded attendance on a printed hard copy I would strongly advise that you scan it and save an electronic copy.

In either case, create a new folder within your electronic directory system that uniquely identifies the Group and Course/Subject. Within this folder save your completed attendance sheets for each lesson delivered.

Naming your files appropriately when you save them is very important if you wish your saved attendance sheets to appear in date order within their folder.

Use the following file name format consistently when saving your completed attendance sheets:

[Date of Lesson]-[Group Name]-[Course/Subject]

When entering a date in a file name enter the Year first, followed by the Month and then the Day.

YYYY-MM-DD

e.g. 2010-12-25.

This format will ensure that saved attendance sheets can be ordered by Lesson Date.

By defining the Group Name and Course/Subject also ensures that if you do save or move an individual file into another folder, the saved attendance sheet can be found. There's nothing more frustrating than having to open individual files to know what they contain. Make your file name work for you.
For inquiries or comments not restricted to this template please get in touch using this Contact Form.
---
MORE STUDENT ATTENDANCE SHEETS AND CLASS REGISTERS..
Lesson Attendance Sheet (MS Excel) >>
Printable Lesson Attendance Sheet (PDF) >>
Training Session Attendance Sheet (MS Word) >>
Printable Attendance Sheet for Training Sessions (PDF) >>
<< VIEW ALL STUDENT ATTENDANCE SHEETS AND CLASS REGISTERS
---
OTHER FREE ATTENDANCE RECORD FORMS AND TEMPLATES..