Printable Attendance Sheet
for Trainers and Instructors
To download the file click on the image below.

The Printable Attendance Sheet will open in a new window.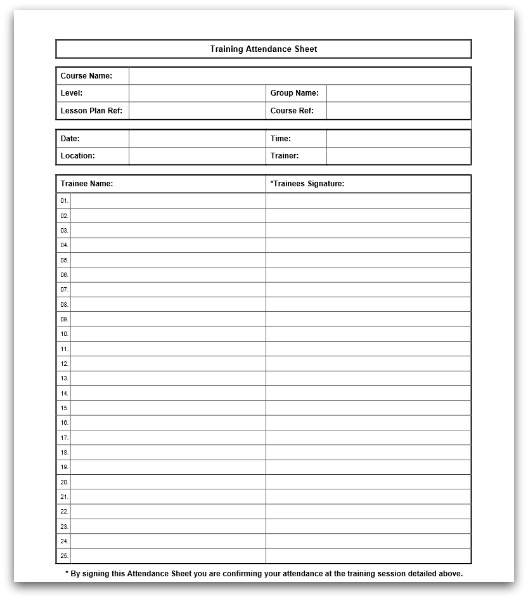 Alternatively view a Training Attendance Sheet in MS Word format
About this template
ATT_WORD_100-Training_Attendance_Sheet
This Printable Attendance Sheet allows attendance to be recorded at individual training sessions for up to 25 people.

Attendees should sign the attendance form to acknowledge that they have attended the training class.

Trainers and instructors use this form to keep an audit trail of what training has been delivered to individuals.
Instructions for using the Printable Attendance Sheet
As this training attendance sheet is in PDF format it cannot be amended.

You will need to print a hard copy and complete it by hand.
If a group of trainees is to receive more than one training session, to save you time in the future, first complete the following details:
Course Name (could be replaced with subject if more relevant)
Level
Group Name
Course Plan Ref (if you have one)
Trainee Names
Make photocopies of your part completed form, 1 copy for each training session that is to be delivered to the same group of trainees on the course.

Alternatively, scan the attendance sheet so that you can print a copy when ever it is required.

The part completed printable attendance sheet becomes your attendance template for the specific course and group of trainees.

Take a copy of your attendance template to each training session. At the session you will need to complete the following details specific to the class:

Ask each attendee to sign the attendance sheet next to their name to confirm that they have attended the training session.

There is space at the foot of the form to enter any comments or observations that may be of interest to note during the training session.

After the class, file the completed and signed attendance sheet in your hard copy records. I would strongly recommend that you scan and save an electronic copy as well.

Save scanned copies with an appropriate file name. Use a file name format that ensures training attendance sheets can be ordered by date, such as the following:

[Date]-[Group Name]-[Course Name]

When entering the Date in the file name use the format below.

YYYY-MM-DD

e.g. 2010-12-25

This will ensure that attendance sheets can be ordered by date, even if training sessions are delivered over two or more different years.
---
MORE STUDENT ATTENDANCE SHEETS AND CLASS REGISTERS..
Training Attendance Sheet (MS Word)
Excel Attendance Sheet Template (MS Excel)
Lesson Attendance Template (MS Word)
Printable Lesson Attendance Sheet (PDF)
<< VIEW ALL STUDENT ATTENDANCE SHEETS AND CLASS REGISTERS
---
OTHER FREE ATTENDANCE RECORD FORMS AND TEMPLATES..